www.strever.org Strever Family History
German Roots
The Strübel's came from the State of Wuerrtemburg, Germany. Many people assumed they came from Palitinate, Germany, because at the time of their arrival into the US, most of the German immigrants were from Palitinate.
The Strübel's originally lived in Beiningen, which is southwest of Ulm, Germany - about 100 miles west of Munich. Beiningen was too small to have its own church, so they attended church in Pappelau, a nearby town. In 1611, they moved to Seissen, which is about 20 miles away. Although this may not seem like it is very far, the area is somewhat mountainous and Seissen and Beiningen are on opposite sides of a mountain so crossing would take quite a bit of time. Beiningen, Pappelau, and Seissen were noted as being Protestant towns in the 1600's so it is not surprising that they moved from one Protestant town to another.
The church in Pappelau is beautiful and the pastor there showed me the original book and page that lists Michael Strübel's birth record. Here are some pictures of the church and the book.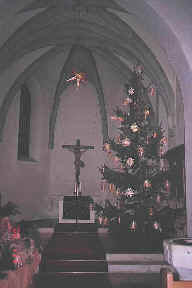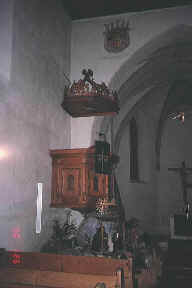 Today, Seissen is a small but beautiful village. It has actually become annexed by the city of Blaubeuren and is no longer its own city. Here are some pictures of Seissen today: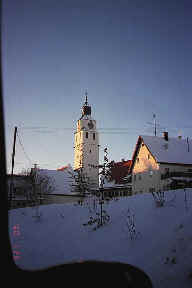 There is still a Strübel family living in Seissen and they actually live in a house that has been in the Strübel family for about 200 years. Otto Strübel lives in the house with his wife, Minne, 3 daughters and a son, Michael. I had a chance to visit with Michael, who is a carpenter and speaks English, as well as speak with Otto on the phone.
Strübel
Otto Strübel co-wrote a book entitled "900 Years in Seissen". In the book, Ulrich and Johan are discussed as having left Seissen in 1752 for Philadelphia, in the New World. It appears they never made it to Philadelphia, but instead went to New York, however, it is interesting that this information was listed in the church records.