www.strever.org Strever Family History
John Strevell
John was born July 25, 1927 in Mineola, NY. He grew up in Mineola, on Long Island.
John married Jane M. Peterson on June 13, 1953
Jane M. Peterson was born February 8, 1927 in Albany, NY.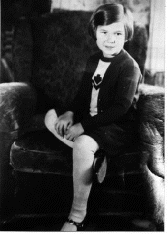 Jane in 1933, 6 years old
They started a family right away, having their first child after 10 months of marriage.
They bought their first house in 1954 for $7500. The house was located at 2 Crown Court in Miracle Manor which was in Colonie, NY.
It had 2 bedrooms, a living room, kitchen and bathroom.