Ulrich Strevel
Ulrich is the father of all the Strevels and Strevells in the US and Canada today. The records of his ancestors is quite clear and present day Strevels and Strevells should be able to find out how they tie into this family tree.
Ulrich arrived in the colonies in 1752, at the age of 24, with his father Jacob. He married Margaretha Coon in 1758 and had his first child in 1760.
He settled on a farm in the Ancramdale area, in Dutchess County, adjoining the farm Johannas settled on.The area was later changed to Columbia County. The farm is still there and is on Crest Lane. It is called Crest Lane Farms and below is a picture of what the house looks like today. The part of the house on the far right side is the original portion of the home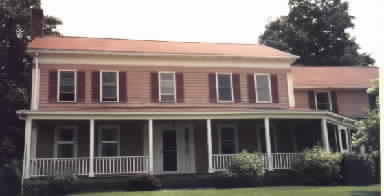 Ulrich had 6 children:
Maria (b. Nov 24,1760)
Jacob (b. Mar 5, 1762)
Matheus Frederick (b. Jan 14,1764)
Elizabeth (b. Mar 26, 1766)
Georg (b. Feb 4, 1768)
Eva (b. about 1770)
Some of Ulrich's descendants fled to Canada rather than be forced to fight for England during the Revolutionary War. Ulrich was said to be imprisoned until he swore allegiance to Britain. His descendants later returned to the US- some to New York and others to Michigan.
Ulrich, as well as Johannas, is listed in the 10th regiment Albany Co. Militia, Revolutionary War. In that Reg. they volunteered to serve, but may NOT have been called - besides, many N.Y. Revolutionary War records were burnt in Albany court house fire.
Tories from Livingston Manor were jailed at Kingston and questioned. "Ildrick Streble, prisoner, saith that Armount Viele has in April last swarn him to secrecy and alligence to King Geo. at the house of Hendrick Hoysradt -etc" also charged were Johannes Dings, and Daniel McIntryre. All neighbors, and relatives. This from "Nine Little Partners". Ulrich was imprisoned as a Tory for a short while during the Revolutionary War. There is a record of the amount of peas (?) and bread that he consumed while incarcerate
Other accounts say that he was imprisoned until he would swear allegiance to Britain, which makes more sense as he was from Germany and had no ties to Britain.
Ulrich & Magaretha disappear from the Ancram and N.Y. area about 1790. There was an "Uldrich Striebel farm" in the Ancram area in 1980 that was owned by the McArthur's. Both Ulrich and Johannes were in the 1790 N.Y. census, but Ulrich disappeared by 1800 census although he may have been in one of his childrens' households by that time as he would have been about 70 years old.
Two of Ulrich's children, Jacob and Eva married a Hoysradt.
We do not have exact records for Ulrich's siblings, Appolonia and Catharina, but do know Ulrich and his wife Margaretha were sponsors for children of both of them. We do not have the name of Appolonia's child but we do have the names of Catharina's children. Her first child, Johannes, born in 1761 was sponsored by Uldrich and Margaretha. Her second child, Niclas, born in 1764, was sponsored by Johannes and Maria Strevel.